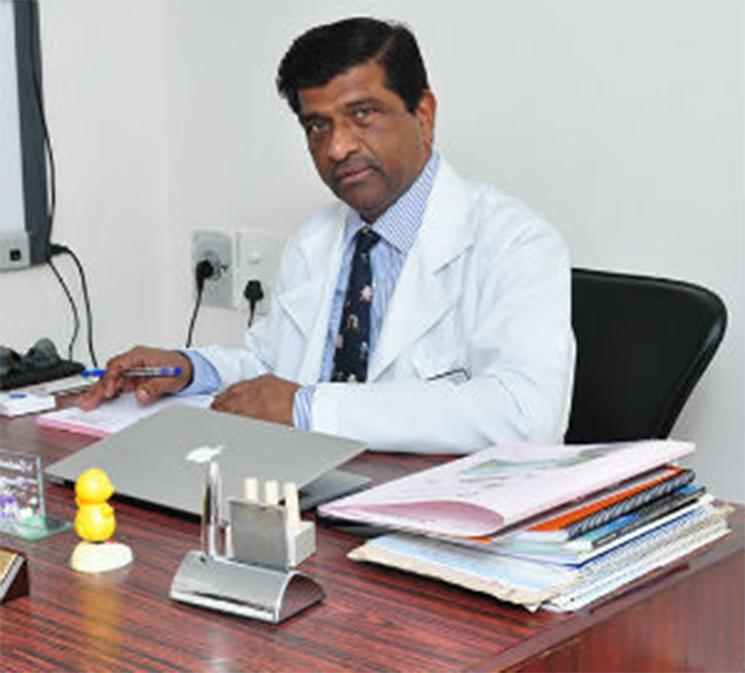 Graduated from Andhra Medical College, Vizag: Andhra University
Post completing House Surgeon Course, he flew to UK and commenced working at various eminent hospitals viz. Kent and Canterbury, Birmingham University Hospital, Royal London Hospital, and gathered deep knowledge and honed his skills in varied surgical specialties. For instance, in general surgery, vascular surgery, urology, surgical gastroenterology, and colorectal surgery.
Obtained world acclaimed, prestigious FRCS: Fellow of the Royal College of Surgeons, from the eminent Royal College of Surgeons, Edinburgh, Scotland. He was well-trained in laparoscopic surgery [keyhole] from London, Scotland, and IRCAD, Strasbourg, France, and Switzerland.
He procured excellent training in vascular surgery, chiefly in peripheral vascular and laser surgery for varicose veins from The University of Lubeck, Germany under the able mentorship of Professor Markus Kleemann, HOD and a professor of vascular and endovascular surgery.
Dr Vidya Sagar Chintapalli gained immense training on diabetic foot care from the world renowned Amrita institute, Kochi, Kerala and acquired deep experience in podiatric surgery that intently deals with diabetic foot problems.
Deemed as one of the best surgeons or in fact the best in Vijayawada, Dr Vidya Sagar Chintapalli offers world standard quality care and expertise in treating medical conditions that are currently posing to be in epidemic form: diabetes, varicose veins, anal fistula, anal fissure, pilonidal cyst and hemorrhoids.
He loves to extend his expertise to patients hailing from all over the world, embracing them with best of health care and specialized medical treatment, with a deep concern for the poor, quiescent, ignorant laymen.
Dr Vidya Sagar Vascular Laser Center offers hi-end health treatment with sheer integrity, compassion and affordability.
Memberships
:
ADFS: The First Indian Association of Diabetic Foot Surgeons, Denmark
VI: Vascular International, Switzerland
DFSI: Diabetic Foot Surgeons of India
FICRS: Fellow of the International College of Robotic Surgeons
EAES: European Association of Endoscopic Surgeons, Amsterdam
PPL: Private Pilot License Holder